Koffee Klatsch: Something New In Dublin
Please follow and like us: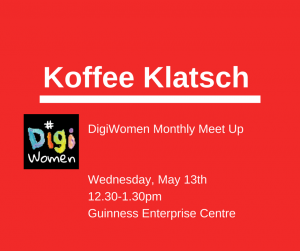 Koffee Klatsch
DigiWomen Koffee Klatsch is a twice monthly  meet up for female makers and users of tech. There's a daytime meet up the 2nd Wednesday of every month. And an evening one the last Wednesday of every month.
Run by DigiWomen it is a chance to get together to learn, connect and talk tech and business with likeminded business women.
Wednesday May 13th
12.30pm to 1.30pm
For founders/owners, employees, coder, developers all working in or using tech to grow their idea/business. Whatever stage you are at there is always something you will get from it.  
Meeting that developer/designer/advisor
Getting to know other women in the tech sector
How to find your way around the Dublin Startup scene
Sharing your news challenges and successes
What will happen. The format is a one hour lunch meet up session. We go around the room the first time and everyone gets a chance to introduce themselves, their business and who they are looking to get in touch with. Then we go around the room a second time to say who we can connect people with. Tea and coffee are provided and theres a chance for everyone to connect at the end. And just like the GEC 1st Wednesday Club we are strict on time and keep it to the one hour.
Attendance is free and booking is essential. 
Please follow and like us: